About Us
e4CartFasteners.com is a division of extrafasteners.com. The concept began by the intersection of a customer request for and a market void of an easy to access and use, cloud based order entry system focused on the unique needs of the Fastener Industry. The concept was to provide a customizable and affordable order entry platform that can be integrated with your own website for less than $100 per month. This means that you can now provide your customers the ability to place orders 24X7. e4CartFasteners.com provides meaningful, affordable order entry capability to the fastener industry thereby allowing you the freedom to better serve your customers.
There are thousands of Standard Items pre loaded in our system along with easy-to-use eCart Gridz which allow you to enter selling prices, push a button, and go live.
eCart4Fasteners.com offers you a system that speaks to the need for ongoing focused value added services with no downside. There are no hidden or startup costs. Your customers are just one click away from placing online orders for the products you sell. Providing this service enhances your customers" experience, creates closer links to existing customers, and improves efficiency by saving time and money.
Our Mission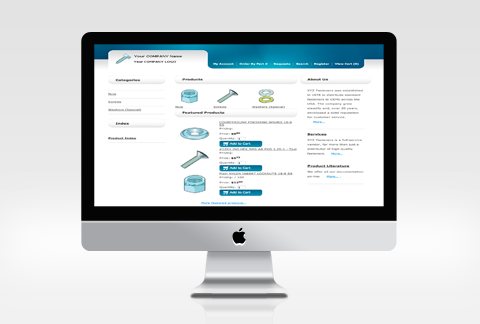 We heard what our customers were saying, and went back to enhance the systems significantly to include more layout choices, the product information layout and added more features including product grids.
Key Product Features
Support for multiple payment options.
Support for deferred payments.
Customized to the Fastener Industry.
Browser based product and order administration
Ability to place orders for any customer
Comprehensive Order Reporting.
Pricing Grids
Muliple pricing levels
Discount / Promotions codes
Products may be broken down by main category/sub category etc.
Confirmation e-mails.
Advanced search capabilities.
Customers may view order status and summary of past orders.
Works if cookies are disabled. MOST SHOPPING CARTS DO NOT!
Discount Features
Customer Specific Discounts
Store-wide Discounts
Promotional Discounts
e4CartFasteners Management Team
Hilton Plein
CEO & Founder
hilton@foesys.com

Hilton Plein founded PaperExchange.com in 1997. He led the company through formation, initail product development, growth, and an eventual exit event. Hilton received a MBA from DePaul University in Chicago and a Math degree in his native country of South Africa. His background includes management, consulting, and development positions with Tenneco Packaging, RR Donnelley & Sons, and Blue Cross Blue Shield of Illinois.



Ian Carrus
President & Executive Sales
icarrus@foesys.com

Ian Carrus is seasoned Fastener Industry executive and entrepreneur with over 25 years of of management and industry experience. Ian received a BS in Chemistry/ Economics from Bethany College (Bethany, WV). In the early 1990s, Ian purchased an interest in Cronin Fasteners, Elgin, IL. After accepting an acquisition offer, he and a partner acquired Fasco in 2002 where he served as President and grew the company sales in excess of $16MM, establishing Fasco as a leader in automotive fasteners and components. The company also acquired Perine Danforth Company, a stocking fastener distributor based in Seattle, WA. Most recently Ian sold his interest in Fasco/PDC in early 2016. He is now focusing his attention on new projects, and has taken an equity position in ECart4Fasteners.com thereby leveraging his industy knowledge and expertise to grow this fastener industry specific online Ecommerce platform.



Steve Simon
Executive VP Operations
psteve@foesys.com

Steve Simon is an accomplished senior-level Information Technology professional with over 30 years of management experience. His multi-faceted background includes extensive experience in process reengineering, software and hardware evaluations, application development, systems conversions, and personnel administration. Hands-on, innovative leader with strong interpersonal skills and a proven ability to manage multi-platform client server environments focused on customer satisfaction and cost containment. His background includes management positions with McDonnell- Douglas Aircraft, U.S Veterans Administration, Tenneco Packaging, Tenneco Inc., Serviceware Software Inc., and British Petroleum.
Harry Bauskin
bauskin@rogers.com

Harry Bauskin has extensive experience in the banking and investment industries. He previously held various positions with Bank Hapoalim, Israel's largest bank, over a 30 year period. These positions included acting as head of the bank's Toronto and Canadian divisions and head of the Investment Advice Division in Jerusalem. He was key in establishing a portfolio management company and foreign investments division for Bank Hapoalim. Mr. Bauskin has also acted as Deputy Managing Director for Israel Halutz Ltd., one of Israel's major portfolio management companies, and as Senior Portfolio Manager/Analyst for Afikim Investments Limited. He holds a Bachelor of Commerce degree from Durban University in South Africa where he specialized in economics and accountancy. Mr. Bauskin's experience in evaluating potential corporate acquisitions and financing structures is a key asset to the Company.

Murray Sprung
m.sprung.cpa@gmail.com

Murray Sprung is the Managing Partner of Sprung Financial Advisors. Previously he served as Partner of Levinson Simon & Sprung, P.C. (formerly Howard Levinsons & Associates, P.C.). Mr. Sprung was also a Director of Aldabra 4 Acquisition Corp. since August 24, 2007. He has been a certified public accountant of Levinson Simon & Sprung, P.C. since July, 1997. He serves as a Member of the American Institute of Certified Public Accountants and the Illinois CPA Society. Mr. Sprung received a B.S. from the University of Illinois in Urbana.